So what's my connection with Quentin Tarantino, writer and director of the modern film classics RESERVOIR DOGS, PULP FICTION, and JACKIE BROWN?
Well, currently there is none, but at the time that I first moved to L.A. in 1987, my girlfriend (now ex-wife) Denise Dumars already had an account at Video Archives, the now-legendary (and defunct) video store in Manhattan Beach, and she used to have long conversations with Quentin about horror flicks and movies in general.
VidArc was a tiny store in a mini-mall, with barely room to squeeze past other customers, but it made up for its size with the percentage of rare and obscure titles that were available, and with the knowledge of the film-nut staff, notably the cinema-obsessed and mile-a-minute talker Quentin, whose low-budget life at the time has been explored in several books. Denise's card was number 1410, and when I made my trek from Oregon in the Orange Monster (my '72 Olds Cutlass), I became a customer as well, discovering the world of strange and disturbing cinema under the tutelage of Quentin, Rowland Wafford, Gerald "Big Jerry" Martinez, Stevo Polyi, Roger Avary, and the owner of VidArc, Lance Lawson.
Then one day Quentin was gone from the store. And sometime later we read in the paper that he was making a movie. We saw him in the store one time when he was visiting, and he confirmed it. Something called RESERVOIR DOGS. When the movie came out, in 1992, we saw it at an old theater on Wilshire in Santa Monica, and we were blown away. Our Quentin made this? This is a real movie...not just that, a great one! Just the opening scene, culminating in the "guys- walking-in-slo-mo-to-cool-to-live" scene (paid homage to in the recent film SWINGERS), totally blew us away. And of course, Q was in the film as well...there he was, someone we knew, in a movie! DOGS is still my favorite of his films.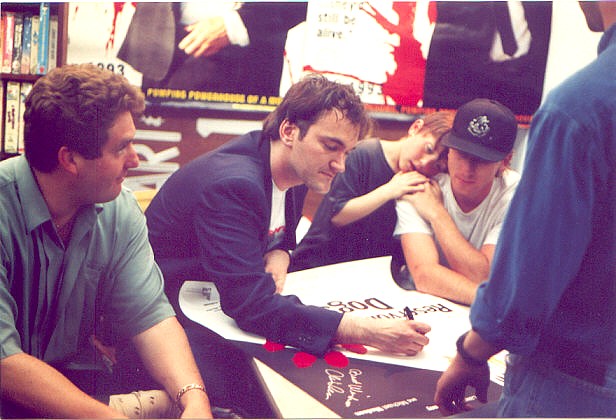 Chris Penn, Quentin, and Tim Roth at Video Archives (1992)
After the movie came out, VidArc (which had recently moved to larger digs in the same mini-mall) held "an evening with Quentin." The place was packed wall-to-wall. 200 people must've shown up. Tim Roth and Chris Penn were there, and Lance introduced the three of them to the cheering throng. There was a Q&A session, and Denise got in a question about the future of horror cinema. Later, Jerry Martinez introduced us to Scott Spiegel, co-author of THE ROOKIE (and writer/director of the new FROM DUSK TILL DAWN sequel, TEXAS BLOOD MONEY). It was great. But it was weird. Someone we knew had become famous.
Still, it wasn't like he'd won an Oscar or anything.
We ran into Q a time or two at VidArc when he was browsing, like us...he still made use of the collection. We spoke with him at the Fangoria Convention in '93, the one where Lawrence Tierney showed up and we had to dissuade him from beating up an Elvis impersonator. (See Todd's Larry Tierneypage.) Then, in 1994, PULP FICTION came out.
That was too much. TOO much. Exponential fame. Minimum wage clerk to director of 100-million-dollar and Oscar-winning screenwriter. There was Q and Roger Avary accepting the gold statuette in front of 800 trillion viewers. The movie itself was way cool, a lot of fun, and the cab that picked up Butch (Bruce Willis) was from Big Jerry's Cab Company, with caricature of himself by Jerry Martinez.
Years passed. No follow-up to PULP. Quentin took a breather, though one punctuated by appearances in a number of films, notably FROM DUSK TILL DAWN, directed by Robert Rodriguez from Q's script, where he was the murderous brother of cool crook George Clooney. That was the picture where Q wrote a scene where Q himself licked tequila from Salma Hayek's leg. Talk about the power of the written word!
Then I heard rumors that Q would be adapting Elmore Leonard's novel "Rum Punch." And bringing blaxploitation queen Pam Grier in as the star, and Samuel L. Jackson and Robert Forster as her loathe and love interests, respectively, and that he'd be filming in L.A.'s South Bay! And one day in 1997 there was studio equipment in the parking lot of the Del Amo Mall in Torrance, and Denise and I took a walk in the mall and there was Q, sitting in his director's chair, and Big Jerry and Rowland were in the crew, and it was a Video Archives reunion, ten years later. We spoke briefly with Q, and Rowland let us be "walking extras" in a scene that was later cut out of the film.
Later in the week we showed up for some of the food court shooting, and had lunch at our favorite fast-food place, which Quentin had transformed into "Teriyaki Donut." We sat in the background of a few shots, and Q and Pam Grier posed for pictures with each of us. Those pesky fans!
JACKIE BROWN is a wonderful film, and captures the quirky charm of the South Bay beautifully, as well as immortalizing the legendary (now-closed) bar at the Cockatoo Inn in Hawthorne, just a few blocks from where I lived in the late '80s. The Cockatoo bar was one of my old haunts (ask me about the accordion player, the theme from "The Godfather," and the Screamin' Orgasm sometime).
So that's it. Video Archives moved to Hermosa Beach and went belly- up. I moved back to Oregon. And Quentin cooked up KILL BILL and will no doubt be unleashing many more cinematic masterpieces on us as the century progresses. Sock it to us, big guy!
---
The address of this page is http://toddmecklem.com/quentin.html
Contact the author at casadetodd@yahoo.com

If linking to this page, please feel free to use the banner at the top of this page.
Rights to all written material on this page are reserved by the author.
Essay ©2003, photo ©1992, both by Todd Mecklem.