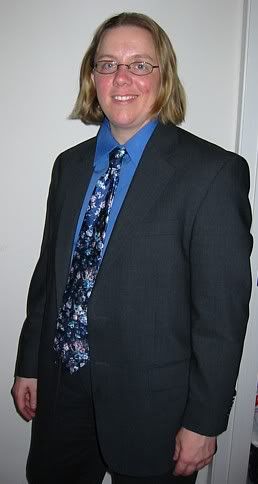 Kaelin Bowers
a memorial
---
In late September 2004 my friend Kaelin Bowers died at his home in Portland, Oregon. The purpose of this page is to serve as a tribute to Kaelin and his work for the causes of equal rights, peace, and civil liberties.
---
Here are Kaelin's obituaries. The first appeared in the Oct. 1, 2004 issue of JUST OUT (Portland, OR):
Kaelin Bowers, a member of Basic Rights Oregon's Trans Advocacy Group, died of natural causes sometime between Sept. 21 and Sept. 23 at home. He was 39.
"Kaelin was a tireless leader on a wide range of progressive issues," said BRO executive director Roey Thorpe. "Not only trans issues, but [he was also] incredibly outspoken on civil liberties and his opposition to the patriot act and the war."
Bowers was born in Virginia in 1965. He held a graduate degree in geophysics and was employed most recently at Intel, where he worked full time as a project manager. He planned to attend law school next year.
In addition to his work with BRO, Bowers served on the Lane County Bill of Rights Defense Committee and the board of the LGBTQ Community Center Fund. He delivered Meals on Wheels, volunteered for the Sam Adams and James Posey campaigns, participated in a Buddhist prayer group, organized and coordinated the Oregon delegation of the National Center for Transgender Equality's summer lobby effort and was a member of the Intel queer employee group as well as the Trans Health Collective.
According to friend Christa-Margaret Nelson, Bowers came out as trans and started physically transitioning in the fall of 2001. Previously he identified as a bi woman and had been involved in the Portland bi community.
"One of the most defining characteristics of Kaelin's transition was his staunch bodily identification with maleness," Nelson said. "For Kaelin, he was not a female-bodied person with a masculine identity, rather he was physically male, maintaining this in the face of all the world that read him physically as female….Before Kaelin transitioned, he was somewhat of a feminine being, yet he completely grew into and manifested the vision of himself that was always contained within him. This vision was of the magnanimous, ponytailed, self-identified gay man that took me out to lunch for my birthday several weeks ago, someone with the kind of radiant masculine energy that only comes from a man."
Thorpe added: "In the time I knew Kaelin, he went from being a shy, introverted, timid person to being the life of the party—funny, social, smiling and gregarious. His courage should inspire us all, and his journey should remind us of how much human potential can be released when a person's true heart and soul and essential being are allowed to flourish."
Bowers was known not only locally but also internationally as an important activist in the trans community.
Mara Kiesling, executive director of the National Center for Transgender Equality, commented, "As a movement, we are greatly diminished that we will no longer have [Bowers'] dedication, drive, intelligence and aggressive advocacy, which have added so much to our movement and would have meant even more in the future."
A community twilight memorial service to honor his life and work will be held on Sunday, October 10 at the far west end of Laurelhurst Park at 5 p.m. All are welcome. The service will be led by Reid Vanderburgh and will feature speakers representing the different spheres of Bowers' life, a space for individuals to share personal memories and reflections, a cellist and a group song. Donations to cover the costs of the memorial service can be made to The Kaelin Bowers Memorial Trust Fund at Washington Mutual Bank. Flowers or other expressions of memorial can be placed on Bowers' porch at 3937 N.E. Sixth Ave.
---
The second appeared in the Oct. 5, 2004 issue of THE OREGONIAN (Portland, OR):
BOWERS, KAELIN August 18, 1965 - September 23, 2004.
Kaelin Bowers, friend, colleague, and advocate, has passed from this world. He drifted away peacefully in the sometimes unexpected natural course of things. Kaelin was a selfless advocate, dedicating his time, energy, and life to the causes of justice, fairness, and equality. He believed in the necessity of personal freedoms, and he worked to insure civil liberties in the face of their decline. He witnessed injustices towards the Muslim-American community, and he stood alongside and spoke out with them. He was transformed and crystallized through his transgender experience, and he worked to educate others with the insights he gained through this experience. He understood the power of community, and he became involved and contributed himself to it. Kaelin Bowers was a friend to many, someone embodying a wonderful blend of positive aspects and energies. He was kind yet strong, generous yet wise, determined yet not inflexible, serious yet silly, experienced yet youthful. His warm spirit inspired those around him, and he leaves a beautiful legacy of those who were touched by him.
A community twilight memorial service to honor the life and work of Kaelin Bowers will be held on Sunday, Oct. 10 at 5 p.m. at the concert pad at Laurelhurst Park in Portland. The site is in the west/central area of the park, near the cross streets of S.E. 37th and Oak. The service will be lead by Reid Vanderburgh and will include speakers representing the different spheres of Kaelin's life, space for individuals to share brief memories and reflections, a cellist, and a group song. All are welcome. Donations towards the memorial costs can be made through The Kaelin Bowers Memorial Trust Fund through any Washington Mutual branch. Remaining funds will be donated to organizations with whom Kaelin was most recently involved.
---
Additions to the obituaries:
Kaelin was born Allyn Kathyleen Bowers in Virginia, and later moved with his family to Massachusetts, where he attended North Reading High School in North Reading, MA.
---
In 2000, Kaelin wrote this brief autobiographical statement for a technical writing organization newsletter he was co-editing:
In 1987, I received a BS in Physics and Mathematics from Bates College. In 1993, I received a MS in Geophysics from Boston College. When I was a geophysicist, I spent half my time programming and writing documentation. After leaving the world of geophysics in 1996, I became a full-time technical writer. Currently, I am a technical writer for Intel's Networking division. Over the past two years, I have been diving into the online scene with online WinHelp, HTML help files, XML, and HTML web pages. I'm also a Willamette Galley Newsletter Editor for Society for Technical Communication, Willamette Valley Chapter.
Source: http://www.stcwvc.org/galley/Nov00_newsletter/Meet-Editors.htm
---
For a time in the mid-90s Kaelin worked for Hager-Richter Geoscience in Salem, New Hampshire, where he worked on a rather unusual project:
"As one of her many projects, Allyn Bowers spearheaded a 'spirited' geophysical investigation of a cemetery here in New Hampshire. We had conducted a successful pilot survey for a small town last year, and this year, the town asked us to conduct a detailed survey of large sections of two historic town cemeteries to determine which spots are 'occupied.' Allyn led a team that used GPR, supplemented in part by magnetics and EM, to provide the town a detailed occupancy census of the cemeteries."
Source: http://www.hager-richter.com/fall-95.pdf
---
In October 2003 Kaelin traveled to Washington D.C. to lobby congress as part of the "Grassroots America Defends the Bill of Rights First National Conference." His essay about the experience is at http://www.lanerights.org/kaelin.htm; if that link no longer works, read the essay HERE.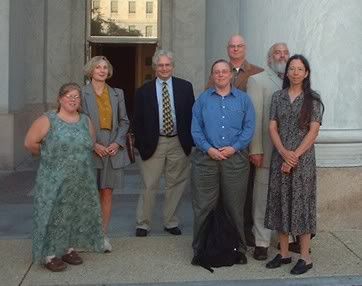 Left to right: Brooke Robertshaw, Colleen Llewelyn, Oregonian columnist David Sarasohn, Kaelin Bowers, Gaston City Councilor Michael Slocum, Brian Michaels, and Michi Okuda, Washington D.C., Oct. 2003.
---
In 2004 Kaelin helped to found a group, Rights 101 Oregon, aimed at "Defending Civil Rights in Oregon in the Era of the USA Patriot Act." The other founding members of Rights 101 Oregon were Herman M. Frankel, M.D., Mark LaMalfa, and William Pickard. The web address of the group (as of Oct. 2004) is http://www.rights101oregon.org/.
---
More photos:
---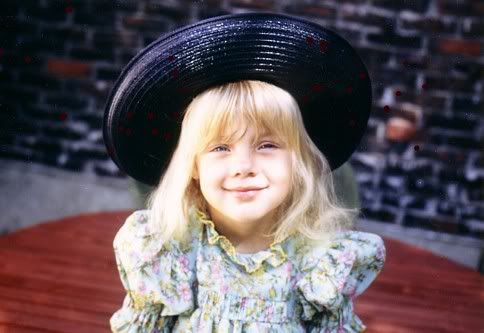 A photo from childhood.
---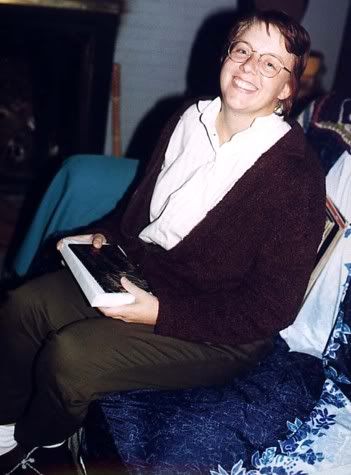 Allyn in 1998 or '99.
Photo by Linda Kanzinger.
---
Allyn with Isabelle (6 weeks old), Sept. 1999.
Photo by Linda Kanzinger.
---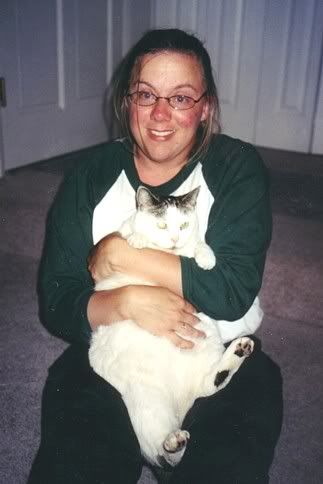 Kaelin and Mika.
Photo by Todd Mecklem.
---
At Kaelin's Iraq War protest at the Vietnam Memorial in Washington Park, April, 2003.
Photo by Todd Mecklem.
---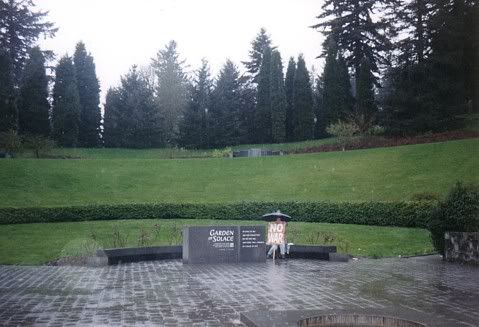 A voice in the wilderness?
Photo by Todd Mecklem.
---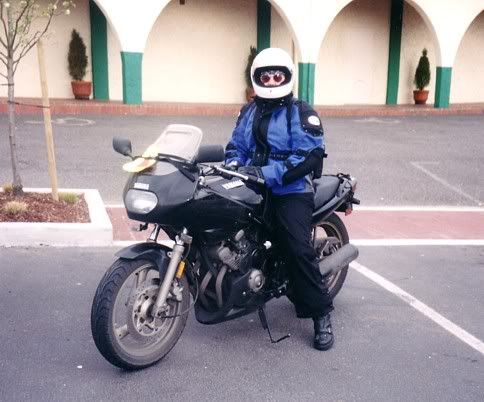 Kaelin on his Yamaha.
Photo by Todd Mecklem.
---
Memories of Kaelin:
I first met him online in late 2002, as I was preparing to move back to Portland after many years in L.A.; he had a room to rent in his house in SW Portland. (Later, in 2004, he moved to NE Portland.)
We got along well…both of us were politically progressive, though I mainly just complain a lot, and K (as I came to call him) was always on the front lines, volunteering, donating money, putting an amazing amount of time into the causes that were important to him.
He was as generous with his friends as with his causes. When I decided, after failing to find a job, to spend a month wandering in southern Mexico, K let me pay just a token payment to keep the room for that month. Another friend of K's moved in, and was rarely able to pay his full rent, but K let it slide in the name of friendship. His pets received any veterinary care they needed, regardless of the cost, and K spent the last year of his life tending daily to a pygmy rabbit named Elise who needed a lot of care…he refused to have her put to sleep. I was with him when Isabelle Rabbit died of a heart ailment last summer; he'd done everything he could for her. I couldn't know that barely more than a year later K would be gone too.
K loved games like scrabble, boggle, and backgammon; had an electronic keyboard which he played occasionally; and was know to play poker late into the night with a group of friends, for very small stakes! He also rode a motorcycle for several years, and sometimes relaxed by watching football (a Patriots fan always) or auto racing.
We took some little trips together, K and I, heading to Seaside a couple of times; we played miniature golf at Ten Tiny Tees, and it turned out that he'd been holding out on me, and was a fine player: in short, he kicked my ass. Late last summer (2003) we went on an overnight hike in the Bull-of-the-Woods Wilderness, camping at Pansy Lake, and cooking our dinner over a campfire. K had little experience with the wilderness, but he enjoyed the peacefulness there, sitting by the lakeshore watching the newts swim by.
Through that spring and summer of 2003 we'd each gone to a number of peace protests, sometimes together, sometimes separately. At one point early in the war K decided that the Vietnam Memorial in Washington Park would be a fitting location for a peace vigil. He listed it on the Indymedia website, and made a few calls, but he and I were the only people who showed up. It was a rainy afternoon, and we didn't have any onlookers either, but we stayed for an hour or so anyway, talking about war, peace, and the meaning of life. K had found his meaning in working for positive social change; he refused to let himself become too discouraged by the reverses of the Bush years.
During the summer of '03 K became involved with the Peace Camp across from City Hall, taking them supplies, and even spending the night a few times; I remember how upset he was when the city government shut the protest down using unfair and unconstitutional laws; K had spoken before the City Council a number of times, and had met mayor Vera Katz, and he couldn't understand how she could be so hostile to a peaceful protest against an illegal war. At that time the antiwar protestors were widely mocked; now, more than a year later (Fall 2004) all of our warnings and predictions have come true, and we're no longer laughed at, though government repression of dissent is worse than ever.
I accompanied K to the Men's Wearhouse in downtown Portland for a fitting for his first suit; they treated him with courtesy, and he proudly wore the suit during the Basic Rights Oregon lobby day at the State Capitol. He later traveled to Washington D.C. for another lobbying event, and helped to organize opposition to the egregious provisions of the Patriot Act.
He is survived by many friends, by co-workers both at Intel and in the various progressive organizations which he was a part of, and by aunts, uncles, cousins, his parents, a brother, a sister, and two little nieces whom he loved very much, and took great joy in visiting and talking with on the phone.
-- Todd Mecklem, casadetodd@yahoo.com
---
My Memories of my Friend, Allyn/Allen/Kaelin:
I first met Allyn Bowers in 1997. We were friends for 6 years. She told me that I was her longest term friend here in Portland. There are many people who probably don't know what happened to Kaelin, as my friend had a wide and ever changing circle of friends.
Although many people have focused on Kaelin's transition and the last few years of his life, there are people who also knew the person Allyn Bowers. And a few of us also knew Allen. (Allen was a transitional name, it appears.) My relationship with Allyn/Allen/Kaelin was simple in some ways, complex in others. I was about 15 or so years older than her, and I felt often that I functioned as an "older friend". Sometimes we talked on the phone every day. Other times months would go by between contact (this was more towards the end of our friendship). But there was always a tie. She came to many of my parties. Occasionally we went on a hike. :)
While I never met Kaelin's mother, due to a family upset when they came out here and Allyn didn't want me to meet her folks after all, I did ironically meet his dad two times. Although Kaelin told many people that his parents and he were "divorced", I knew Allyn/Allen/Kaelin as someone who had an attached though conflicted ongoing relationship with his family.
Kaelin had many faces and I am sure many people knew different parts of him. However, during my last visit with him in Aug 2003, a trans roommate who wanted to know how come I was so comfortable with his "trans-ness" I simply stated "it's the same person; it's the same soul." Kaelin was very pleased with this comment.
So, whatever the name or whatever the gender, I think of my friend now with a multitude of feelings. The first month I was simply so sad. Now that is passing, yet I am still saddened to know that such a unique expansive person is forever gone. Let us make sure that his memory lives.
-- Linda Kanzinger, alcottpres@aol.com
---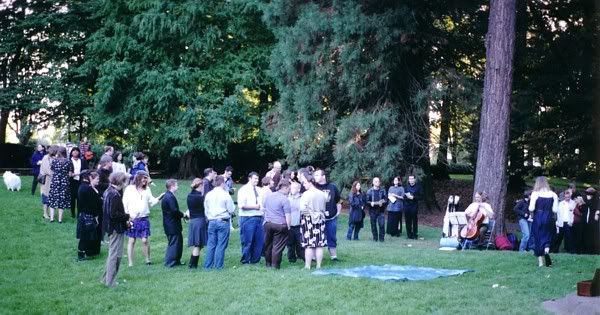 Kaelin's memorial service was held in Laurelhurst Park in SE Portland, in a grassy area near some tall Douglas Fir trees. A man named David Potter played the cello as we gathered. There were about 100 people there, and the weather was dry, though it's been raining during most of the last week; the sun peeked through the branches of the trees as we began the service at 5:00 PM. Reid Vanderburgh, Kaelin's friend and counselor, spoke first, recalling Kaelin's growth of self-confidence during his transition, then Roey Thorpe, head of the group Basic Rights Oregon, talked about Kaelin's selfless devotion to progressive causes. Another friend, Morgan Madrid, spoke of his friendship with Kaelin, and then Vanderburgh invited anyone who wished to speak to come forward; about ten more people did.
I talked about a few of my adventures with Kaelin, most of which I talk about on my memorial webpage. A gentleman who runs a charity for homebound people with HIV or AIDS spoke of how he had bulletined at Intel seeking volunteers to deliver meals, and how Kaelin was the only person who answered; Kaelin asked where the greatest need was, and the man said a long route on the far east side of town, but how that was too far from Kaelin's home and worked, but Kaelin said, no, he'd take that route; Kaelin became one of their most vital and dependable volunteers. A deaf friend of Kaelin's spoke of how they had met, and how Kaelin had worked hard to communicate with her in sign language, but that for long conversations they would revert to email, and how close they had become...and how desolated she was to hear he was gone. Others spoke of knowing Kaelin as Allyn, in the early years after he came to Portland, but everyone spoke of how he had touched their lives, and what a good and kind person he was. There was some laughter, and a lot of tears, and when we sang "Amazing Grace" not everyone could even join in, as their grief was too great.
After closing thoughts from Reid Vanderburgh, the ceremony ended, and people stayed for a while to talk about Kaelin and his life, and to add photos and mementoes to a memory box that will be kept at the Trans Resource Center in Portland.
Someone at the gathering told me that Kaelin had been camping with a couple of friends on the weekend before his passing, and I'm happy that he got out in nature again.
-- Todd Mecklem, casadetodd@yahoo.com
---
Another friend of Kaelin's, Ednoled Santiago Campaña, has posted about K on his weblog at: http://www.livejournal.com/users/ednoled/203957.html.
---
UPDATE: On November 17, 2004, I (Todd) received an email from a Portland Police detective who is looking into Kaelin's case. I called her, and she said that she has been talking with Kaelin's friends, but she feels this was probably a case of natural causes, not suicide or homicide. I also spoke with someone at the Medical Examiner's office on the same day who said that they did toxicological tests came up negative, and that no specific cause of death was found, probably due to the fact that Kaelin was not dicovered immediately. Undetermined "natural causes" were the verdict.
---
I am not listing this last link in order to upset anyone, or to imply that Kaelin's death was anything but "natural causes" as has been announced, but on June 4, 2004, Kaelin sent an email out to some of his friends telling them that he was concerned about government detentions and asking us to check on him regularly if we hadn't heard from him. Due to his work against the Patriot Act and his communication with local Muslim leaders, Kaelin knew that he was likely on government watch lists and was worried that currently "all bets are off as to how far the government will go." Less than four months later, at the age of 39, he was felled by "natural causes" before he could even call 911. To be honest, I don't think the government had anything to do with it. I can imagine Kaelin, though, if he could speak to me, saying "But how do you KNOW?" So I am posting his letter online as part of the record of his life. If nothing else, it's a testament to the troubled times that we're living in, when many Americans fear not only foreign terrorism but their own country's government as well. And I know I'm not the only one who thought of this letter when hearing that Kaelin was gone. I spoke to someone else at his memorial who mentioned it to me. I suppose there will always be a disquieting twinge of doubt in some of our minds.
The letter can be accessed at: http://toddmecklem.com/kaelin_bowers_letter.html.
---
The address of this page is: http://toddmecklem.com/kaelin_bowers.html
Updated 8 July 2007.